Tooting Broadway
Tooting has been settled since before the Saxons, and the origins of its name are murky and not agreed. It is listed in the Domesday Book of 1086 as Totinges. A Roman road running from London to Chichester went through Tooting where Tooting High Street is today.
Tooting Broadway is on the Northern Line on the London Underground. In normal times this is a very busy route, but this is often the last point going into Central London in the mornings where you stand a good chance of getting a seat. (During the pandemic there are seats galore – but I'll give it a pass, thanks.)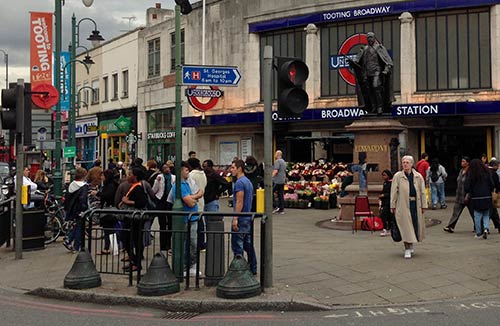 Tooting has two covered markets, Tooting Market and Broadway Market. The Broadway Market has a very large number of Asian stalls and is one of London's biggest. Tooting Market is more varied, with places including Franco Manca Pizza and Graveny Gin, the country's smallest distillery. Immediately outside there's Tooting's 'curry mile' with its wealth of Asian restaurants and takeaways. In 2017 Lonely Planet declared Tooting to be 'one of the coolest places on earth,' and while that raised a few eyebrows it's true it's a fascinating and fun place.
A few steps down the road from Tooting Broadway station is the Gala Bingo hall. This Grade 1 listed building was originally an Art Deco cinema and music hall, and performers including Frank Sinatra, Jerry Lee Lewis, The Beatles, the Rolling Stones and the Bee Gees have played there. It's currently a working bingo hall, but it also opens for tours once a year for people to explore the iconic, lavish space.
Did you know? There is a crater on Mars that is named after Tooting.