Tower Bridge
Tower Bridge is London's most iconic bridge. But it is not nearly as old as many think; the design was approved in 1884 and construction was finished in 1894, taking pressure off the increasingly congested London Bridge. Tower Bridge is built from a steel skeleton clad with stone. It was designed by Sir Horace Jones, who also designed Leadenhall Market, Smithfield Market and Billingstage Market and other iconic Victorian buildings in the city. Today – before Covid, at least – forty thousand people cross the river over this bridge every day.
The walkways that run between the two towers sit around 34m above the road, giving it clearance to open to allow tall vessels through. The weight of the two pivoting parts of the road is impressive; over 1000 tons each. These work like a seesaw, with a counterbalance helping the engines move the immense weight up to a maximum angle of 86 degrees – very nearly fully vertical. (The power for this was provided by steam all the way up to 1976, when it was converted to electricity.) Because of this movement Tower Bridge is not a drawbridge, it's a 'bascule bridge,' which basically translates as 'seesaw.'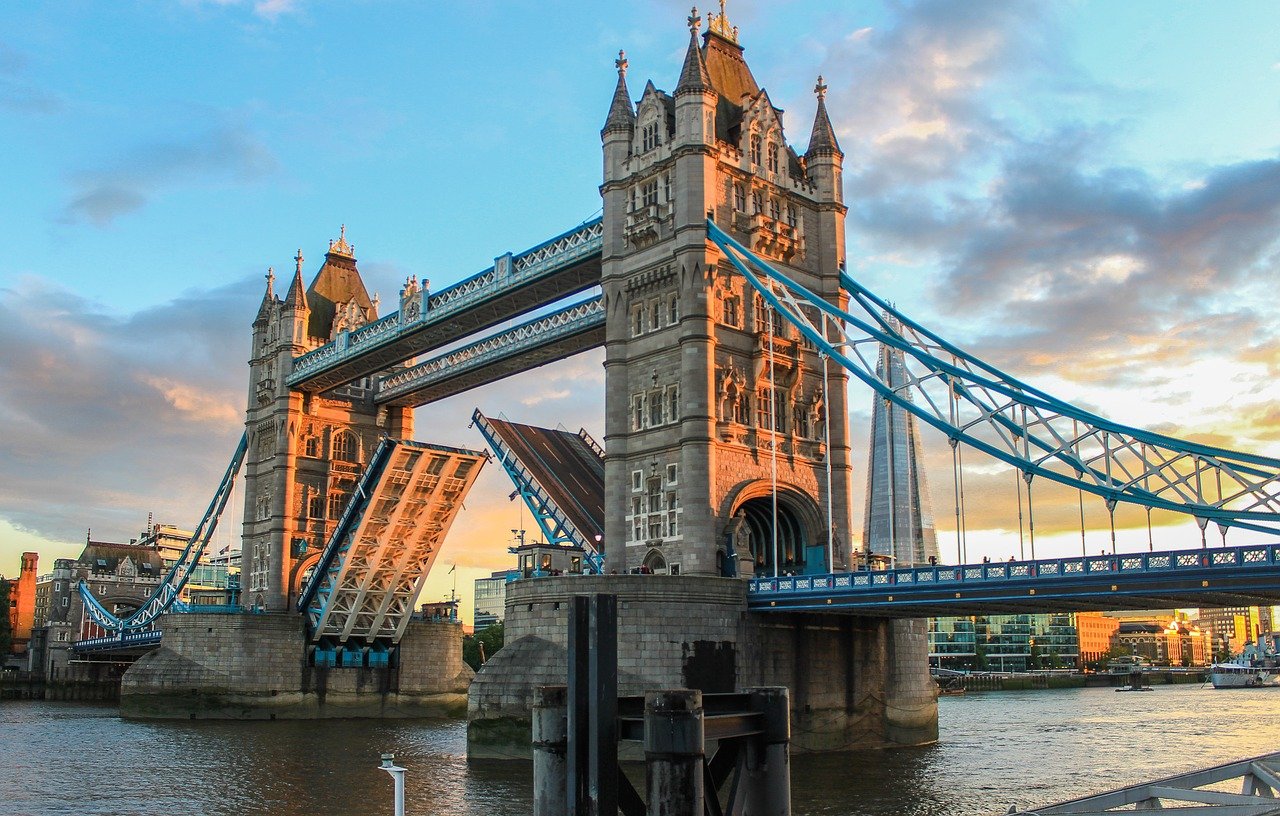 These tower walkways were accessible by stairs but weren't used much at the beginning of the bridge's life, and they soon became known as a place where prostitutes and thieves hung out. They were closed in 1910 and not opened again until 1982. Now they have glass bottoms for part of each walkway's floor, good fun for those with a head for heights!
The bridge roadway only opens a few times a month during winter, but through summer it's likely to open half a dozen times a day. These times are scheduled in advance; you can plan your time in London to ensure you see the bridge open by checking the official 'Bridge Lift Times' page.
Did you know? A double-decker bus once 'jumped' the gap in real life! In December 1952 the number 78 bus was travelling north over Tower Bridge when the driver, Albert Gunter, saw the road immediately in front of him seem to drop away. He realised the bridge was opening without the normal warning and gate closure, and he was almost at the end of his side. He put his foot down and accelerated right off the end onto the north side, which hadn't yet started to open – and he made it over safely with his 20 passengers!