The Broadway, Wimbledon
This is of South London's more iconic locations, but Wimbledon is not just where tennis is played; it's also a popular shopping and and eating destination for the surrounding areas. The Broadway is the main street that runs through the centre, and it's packed restaurants and takeaway food places, clubs, bars and pubs, a couple of cinemas, shopping centres and department stores.
The Piazza, where this panorama was shot, is normally filled with shoppers and popup stalls and events.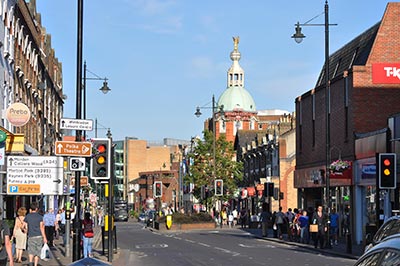 Wimbledon Station is a busy transport hub; it's one of the ends of the District Line in the London Underground network, and it's a overground rail and tram station as well. Outside on the main road many different bus routes go through, and there is generally a London Taxi handy if you need one.
Did you know? Wimbledon has been inhabited since the Iron Age (more than three centuries BCE), and a royal charter by King Edgar the Peaceful in 967 CE mentions the village of 'Wimbedounyng.'